Recently, CCTV Financial Channel broadcast the science and education documentary "Crysis of Heavenly Talents". The film introduced the domestic and overseas projects of China's third-generation nuclear power technology "Hualong No. 1" and attracted the attention of users at home and abroad.

It is reported that "Hualong-1" is the third-generation, one-and-a-half kilowatt-class pressurized water reactor (PWR) nuclear power technology developed by China based on experience feedback from the Fukushima nuclear accident and the latest global nuclear power safety requirements.
As of now, the "Hualong 1" landing projects include Fuqing No. 5 and No. 6 units under construction in China, No. 3 and No. 4 units at Fangchenggang, and overseas Karachi No. 2 and No. 3 nuclear power projects in Pakistan (ie K2K3 project). . According to the documentary "Cry of Heaven", the nuclear power technology has now been exported to the United Kingdom, Argentina and other places, attracting more than 20 countries to propose cooperation. In addition to the "Hualong 1" itself, the Chinese construction machinery elements that were busy constructing in these projects also shined. Together with Hualong One, they took China's high-end manufacturing "business card" to go abroad and sent wisdom and friendship to all corners of the globe.
Pakistan: High-strength concrete pouring creates a solid foundation Resistant to magnitude 10 earthquake

In Karachi, the largest city in Pakistan, the first batch of civil engineering works for China's third-generation nuclear power technology "Hualong No. 1" is nearing completion. As the largest nuclear power plant in Pakistan, after completion in 2020, the annual power generation will exceed 18 billion kWh, which can completely solve the power supply in Karachi and surrounding areas and fill a Pakistani power shortage of 1/3.
As early as February of 2013, China National Nuclear Corporation signed the export contract for Hualong No. 1 nuclear power project No. 2 and No. 3 of Karachi with the original Pakistani Committee. The first trip of Hualong No. 1 to the sea kicked off.
In general, the basic construction of nuclear power projects is mainly divided into nuclear island construction and conventional island construction. As a key part of the "energy generation" in nuclear power plants, the construction of nuclear islands is a top priority for the construction of nuclear power projects. In August 2015, the first tank of concrete was poured on the nuclear island of Unit 2; in June 2016, the first tank of concrete was placed on the nuclear island of Unit 3... In the process of concrete pouring, the construction machinery manufacturer from Changsha, Hunan, China The company has invested heavily in 14 tower cranes, 8 tractors, 2 pump trucks, and several concrete mixers to participate in the construction. This has played a pivotal role in the successful completion of the nuclear island.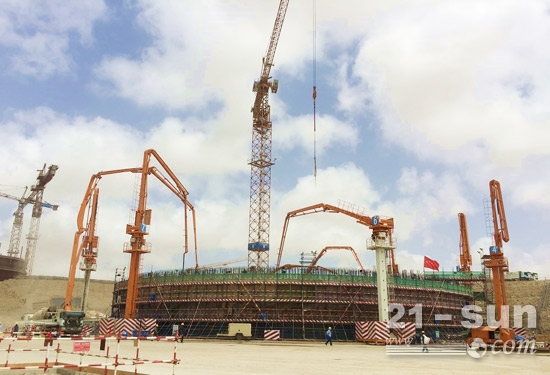 Zoomlion's multi-tower distributors participate in Karachi nuclear power project construction

"It should be said that Zoomlion's concrete equipment has been used for more than 90% of the construction of the nuclear island of the Karachi nuclear power project." Wu Jian, the Zoomlion's Pakistani engineer, said that the unique shaly landform of Karachi caused the foundation to be soft, so the nuclear island The concrete pumping uses a high-impact barrier concrete formulation. "Special technical difficulty requires most of the pouring of the nuclear island to be completed at one time. There must be no mistakes. Therefore, we used a one-time, generous amount of pours, which was performed dozens of times before and after. The longest pour time even reached 3 days and 4 nights." It is reported that long-term, large amount of pouring on the use of concrete equipment performance requirements are extremely high, Zoomlion's concrete equipment has withstood the extreme test, and successfully completed this "transnational mission." According to statistics, the foundation of the Karachi nuclear island after its completion is strong enough to resist the test of magnitude 10 or more earthquakes.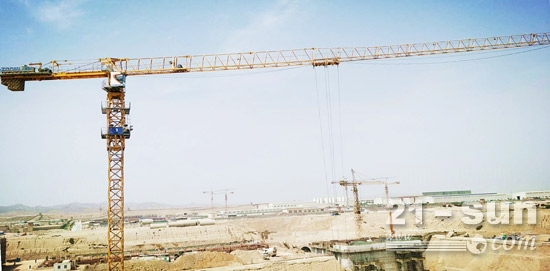 Zoomlion Crane Lifts 90% of Reinforcing Steel for Conventional Island

If the nuclear island is the place where energy is generated, then the conventional island is where the conversion of energy produces electricity. In this square structure of the plant construction, Zoomlion invested nearly ten tower cranes and multiple concrete equipment to participate in the intense construction work.

Fuqing, Fujian: 3200 tons of giant cranes "twisted" nuclear islands twice

On March 21st, at the Fuqing Nuclear Power Plant in Fujian Province, China, the Fuqing Nuclear Power Unit No. 6 for the "Hualong No. 1" demonstration project completed the hoisting of the dome. It is understood that nuclear island dome hoisting equipment is called the nuclear power installation project "adult ceremony", and the implementation of "adult ceremony" is the heavy task of the domestic machinery manufacturing industry leader Zoomlion.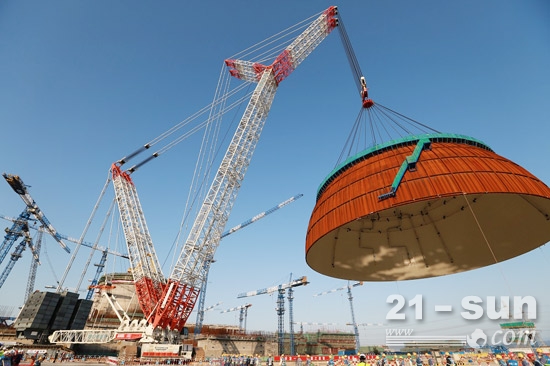 Zoomlion's 3,200 tons of crawler cranes successfully helped Fuqing Nuclear Power Unit 6 complete the dome hoisting

The main body of Fuqing Nuclear Power Unit 6 is a hemisphere with a diameter of 46.8 meters (equivalent to the size of two basketball courts). The lifting weight exceeds 500 tons. Zoomlion's large tonnage crawler crane ZCC3200NP is responsible for lifting it to 6 Unit above the reactor.

It is understood that Zoomlion's large tonnage crawler crane ZCC3200NP maximum lifting capacity of 3200 tons, the maximum lifting torque of 82,000 tons of meters, the main arm of up to 120 meters, the longest jib 48 meters, 50 meters maximum suspension With a capacity of nearly 1,600 tons, it is a true "giant" crane.
And on May 25 of a year ago, this "giant" also successfully lifted the first demonstration project of Hualong No. 1 nuclear power plant in the world and the main body of No. 5 unit of Fuqing Nuclear Power Station. The dome hoisting was introduced by Xing Ji, chief designer of China National Nuclear Corporation's "Hualong 1", as "an important milestone in the construction of nuclear power projects."
Previously, in the process of lifting and erection of large nuclear power plants such as Jiangsu Tianwan Nuclear Power Station and Shidao Bay Nuclear Power Station in Shandong Province, the ZCC3200NP had appeared without exception.
According to Zoomlion R&D technical personnel, Zoomlion ZCC3200NP has obtained more than 50 independent intellectual property rights as the hero behind the construction of nuclear power plants. Its series of related core technologies has broken through the design bottleneck of domestic heavy-duty crawler cranes, and has further promoted the development of industry technology.
Independent innovation to create "the country's weapon." Starting from Fuqing, Fujian, "Hualong No. 1" has entered the "fast track". According to relevant data, in addition to North America and Oceania, "Hualong 1" is currently a country with potential cooperation in all continents, mainly in Europe, the Mediterranean coast and countries along the "Belt and Road" initiative. A group of domestic construction machinery manufacturing companies and nuclear power construction projects, represented by Zoomlion, went to sea and became an impressive chapter in assisting nuclear power construction.
In the future, from infrastructure to technology and equipment, China's high-end smart companies will continue to improve their "intelligent" innovation and continue to contribute to human energy development. (This article comes from Zoomlion.)
Related news: Zoomlion Technology Crawler Crane
Naipu ISW end suction pumps designed in accordance with ISO2858 standard,are single-stage single-suction horizontal centrifugal pumps featured by integrated simple construction for less space, easy installation, smooth operation with less noise and free of daily maintenance due to the introduction of high quality mechanical seals and closed coupling.
Typical Applications---
Water supply system
Lowering underground water level
Boosting
Gardening and aricultural irrigation
Various kinds of industrial application
ISW End Suction Pump Configuration Drawing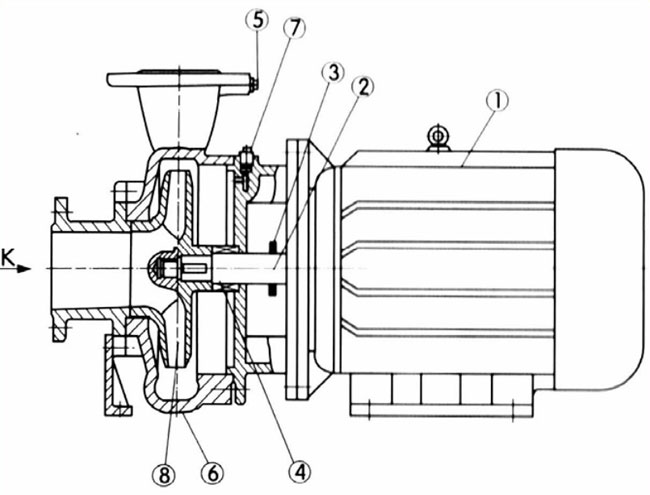 Main Part Number At The Drawing

1 Motor
2 Shaft
3 Deflector
4 Mechanical Sea

5 Pressure Monitoring Hole
6 Pump Casing
7 Pressure Release Plug
8 Impeller
ISW END SUCTION PUMP SELECTION CHART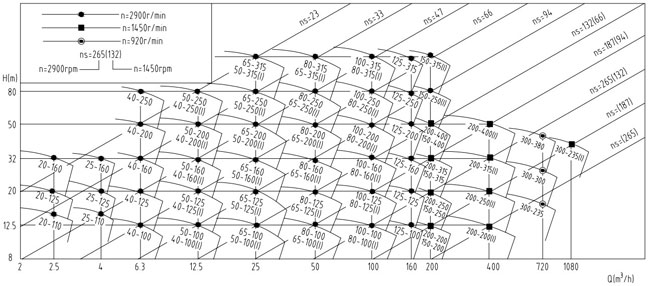 NP- ISW END SUCTION PUMP PERFORMANCE PARAMETERS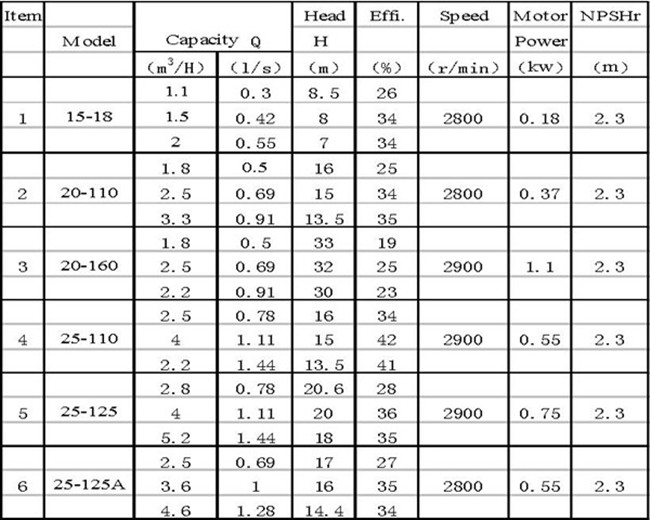 ISW End Suction Pump,End Suction Pump,Clear Water Pump,End Suction Water Pump
Shijiazhuang Naipu Pump Co., Ltd. , http://www.naipu-pump.com