Needle Number:
Double Needles
Transport Package:
Wooden Case
FOXSEW FIBC Big Bag Sewing Machine FX-K81300, Safety Stitch FIBC Big Bag Jumbo Bag Sewing Machine
Safety stitch machine with lower feed and alternating upper feed for container bag
Working Video: www.foxsew.com/company-video/fibc-bulk-bag-making-machine-with-safety-stitch-1124.html
Two needle machine four thread safety stitch machine. Lower and upper feed. Adjusted for polypropylene sewing threads for matched seaming of very heavy bag fabrics make of jute, burlap or woven polypropylene with a 10 mm wide overedge stitch on the fabric edge and in a distance of 5mm (13 gauge) to this with an additional double locked stitch.
Double needle four thread safety stitch; Upper and lower feed with pneumatic operated presser foot and upper feed dog lifter; Guides for polypropylene filler cord from the top and/or from below for sealing the needle punctures of the left needle; Capacity up to 19mm, special for side seaming on heavy big bag; 5mm from needle to needle, overedge width 10mm, total 15mm.
Safety stitch 401.502 (one double thread chain stitch and one overedge stitch); Adjustable stitch length from 6 to 13mm; Built-in walking foot feed system; Main parts apply copper alloy and high duty alloy; Easy maintenance semi-closed structure;Manual lubricating with built-in sight feed oiler; Built-in electro-pneumatically operated presser foot and upper feed dog lifter; Closed type rolling beating apply in every crankshaft; Well assembly quality, ensure the stable running and long service life; High level big bag sewing machine for all sorts of material with different weights in side sewing for big bag; The needle positioner is provided by Servo motor drived unit with very comfortable operation.
This FIBC Big bag sewing machine is supplied with guides for filler cord from the top and / or from below for sealing the needle punctures of the left needle. High needle stroke sewing machine for very strong side seams in the production of very heavy weight jute, burlap or woven polypropylene bags (container bags).
This Big Bag and Container bag making machine is interchangeable with Union Special 81300 series TWO NEEDLE FOUR THREAD SAFETY STITCH MACHINES with Lower and Upper Feed: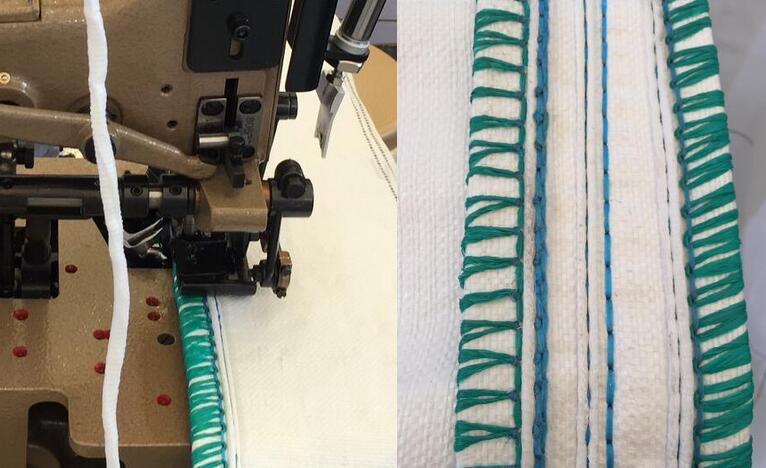 Specifications:
| | |
| --- | --- |
| Model NO.: | Â FX-K81300 |
| Max. Sewing Width: | Â 20mm |
| Stitch Range: | Â 6-12mm |
| Feed Type: | Â Upper and Lower Feed |
| Needle Type and Size: | Â UY9853G 430 |
| Max. Sewing Thickness: | Â 22mm |
| Motor: | Â Servo Motor 750W |
| Needle Distance: | Â 5mm |
| Max.Overlocking Width: | Â 15mm |
| Sewing Speed: | Â 1400 r.p.m |
| Weight: | Â 55KGS |
| Packing Size: | Â 50x40x55CM |
 
Jinan Upgoal Mechanical Equipment Co.,Ltd , https://www.upgoalcutter.com