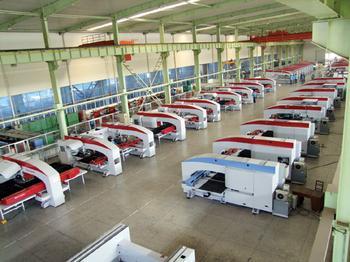 European machine tools have always been one of the world's major producers. In 2012, the value of the European machine tool industry was 22.2 billion euros, an increase of 6%, and the export value reached a record of 18.8 billion euros. However, in 2013, as a major component of the machine tool industry in Germany, the number of orders in the first quarter decreased by 19% compared with the same period in 2012. After the financial crisis in 2008, the European machine tool industry was deeply credit-tightened and the financing channels were increasingly restricted. Concern, economic uncertainty has impaired corporate investment enthusiasm. China's machine tool export ranks eighth in the world. The European market accounts for 24% of China's total machine tool exports. The market size is approximately US$600 million. Europe is an important market for Chinese machine tool exports.
Schaefer, general manager of the German Machine Tool Builders Association said that at present, China exports of machine tools ranked eighth in the world, accounting for 24% of the total European market of China's machine tool exports, the market size of about $ 600 million, Europe is an important Chinese machine tool exports market. It is expected that in 2013 China's machine tool consumption will increase by 12% to 38 billion US dollars.
Relevant data show that the scale of the international machine tool market has more than doubled in 20 years, reaching about US$86 billion in 2011. Since the turn of the century, the annual consumption of machine tools has increased by an average of nearly 10% (in U.S. dollars). The main driving force for growth came from Asia. In 2011, three-fifths of international machine tool production flowed into the region.
It is expected that the investment in large-scale infrastructure in 2013 will boost China's economic growth, especially investment in high-speed railways, urban rail transit, airports and grid expansion. The process of modernizing China's industrial infrastructure has accelerated, and the demand for efficient modern manufacturing technologies has increased.
Schaefer, general manager of the German Machine Tool Manufacturers Association, said: China's machine tool procurement will continue to rise, and is expected to increase by nearly 12% in 2013 to 38.1 billion US dollars. The machine tool industry plays a crucial role in the efficient production structure and modernization. It also shows that the future machine tool industry has an important impact on China's economic construction.
Ganland offer a wide range of Door Hold Backs, which are commonly broke from wind or from simply forgetting to unhook them, keeping trailer door from swinging shut with this handy hold back bracket. All door hold backs s are made from high quality material and trained expertise for multiple applications. These door hold backs are commendably durable and are popular among our customers for their long life and good performance.

Ganland door hold backs are supplied for rich choice, including but not limited to construction: 304 grade stainless steel, steel, mild steel.

Finish: polished, galvanized, zinc plated, zinc plating-coloring.

Installation: weld on or bolt on. Length: 4" 6", plastic plate or not.

Thank you for considering Ganland for your next purchase, if you are searching for truck / trailer spare parts don`t forget to check our extensive range, high quality and competitive price, OEM and ODM, welcome.
Door Hold Backs
Door Hold Backs,Truck Door Holder,Caravan Door Retainer,Trailer Door Stop Kit
Jiaxing Ganland Auto Parts Co., Ltd. , http://www.ganlandparts.com